PT Network Attack Discovery is a deep network traffic analysis system that detects attacks on the perimeter and inside the network. The system makes hidden threats visible, detects suspicious activity even in encrypted traffic, and helps investigate incidents.
Get the full view
PT NAD identifies over 85 protocols and parses the 30 most common ones up to and including the L7 level. This provides a complete picture of what is going on in the infrastructure and helps identify security flaws that can enable attacks.
Detect hidden threats
The system automatically detects attacker attempts to penetrate the network and identifies hacker presence on infrastructure based on multiple indicators, including use of hacker tools and transmission of data to attackers' servers.
Make SOCs more effective
PT NAD provides security operations centers with full network visibility. They can easily verify whether an attack was successful, reconstruct the kill chain, and gather evidence. To do this, PT NAD stores metadata and raw traffic, helps quickly find sessions and identify suspicious ones, and supports exporting and importing traffic.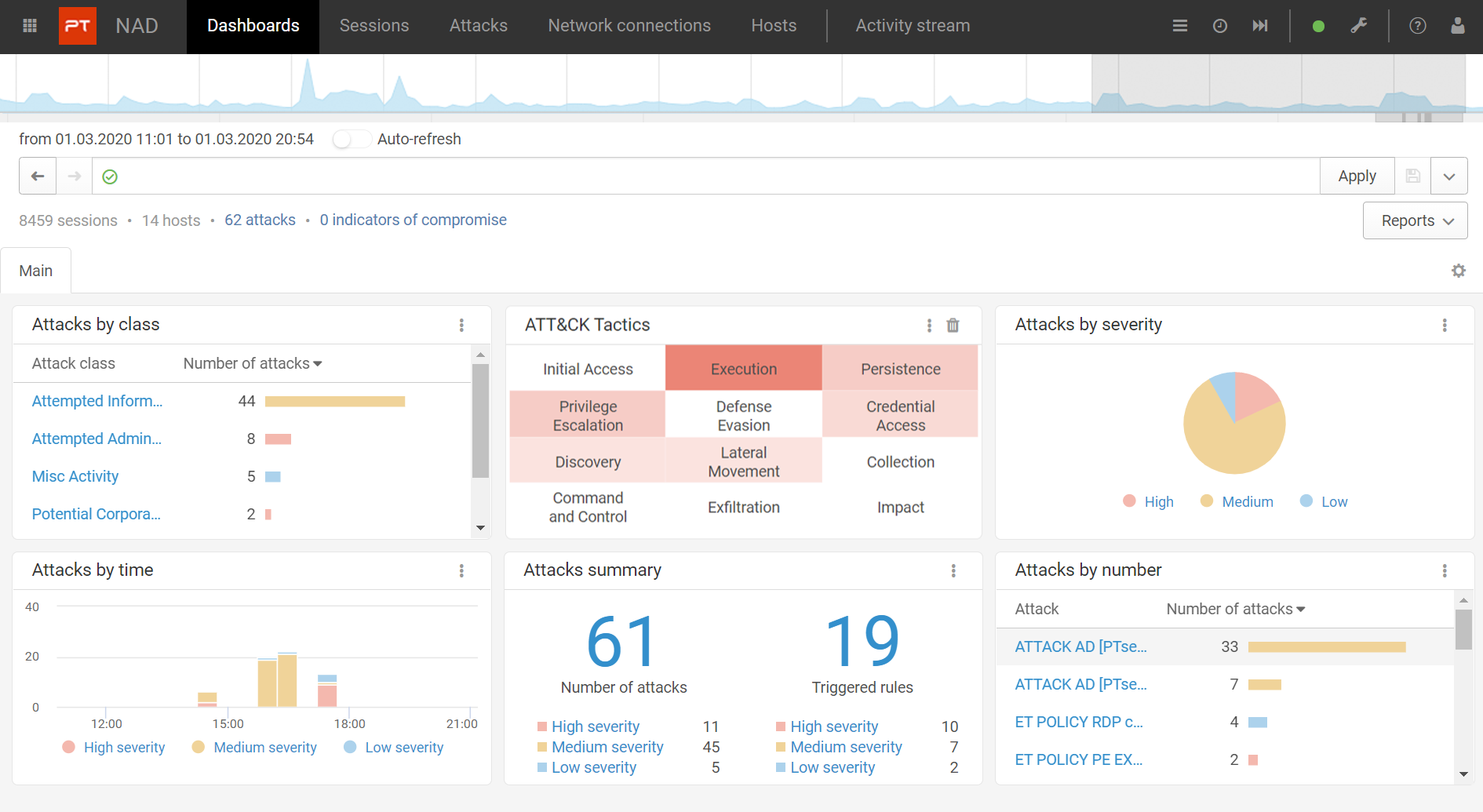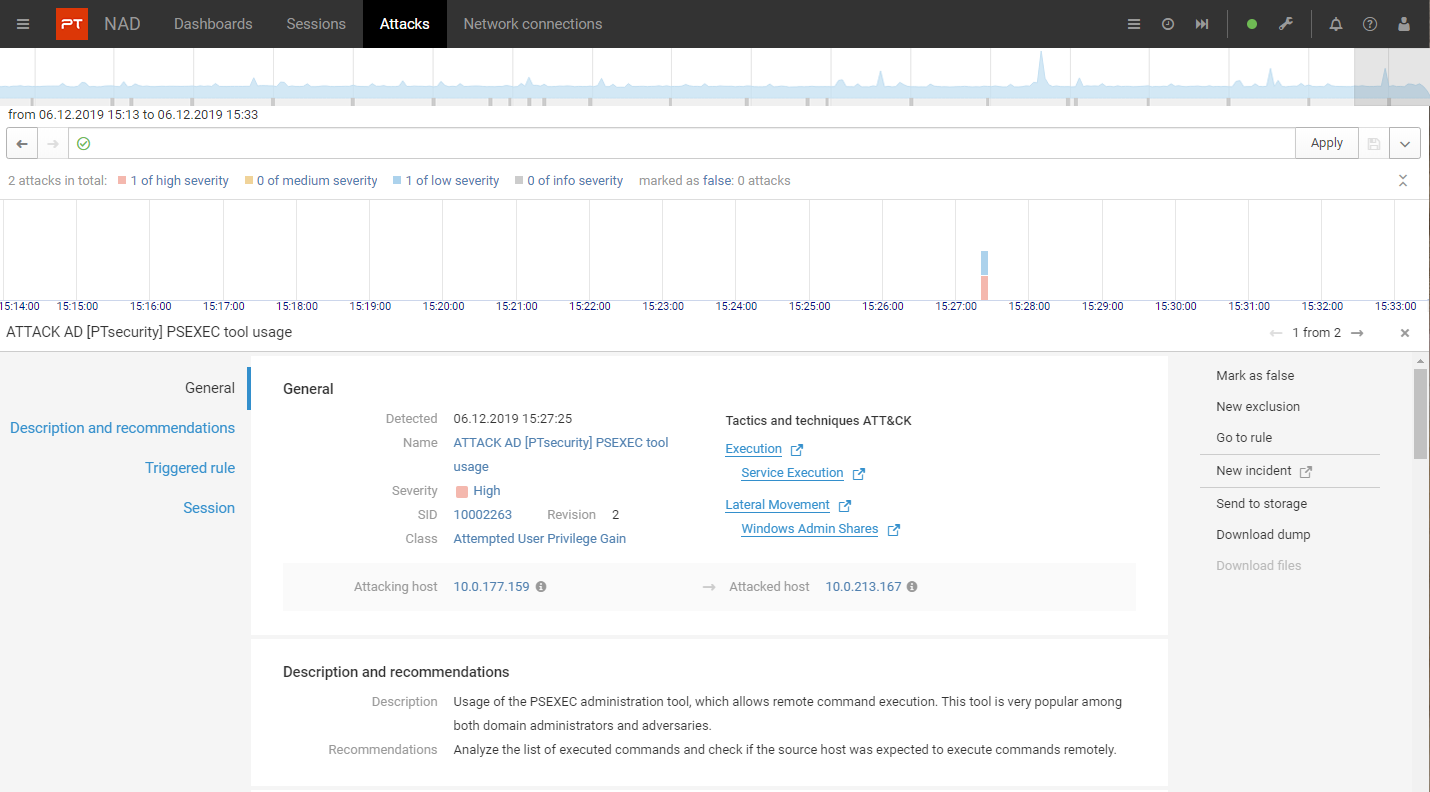 BENEFITS
Detects malicious activity in east-west traffic
Keeps attacks private Information on attacks and aftermath is not transmitted to the outside
Detects even modified malware
Provides faster protection from zero-day vulnerabilities in Microsoft's products
Usage scenarios
Monitoring of policy compliance. PT NAD detects misconfigurations and instances of security policy non-compliance that can pave the way for attackers. Examples include credentials stored in cleartext, weak passwords, remote access utilities, and tools that hide network activity.
Detection of attacks on the perimeter and in the network. Thanks to embedded advanced analytics, unique threat detection rules, indicators of compromise, and retrospective analysis, PT NAD detects attacks both at the earliest stages and after attackers have already penetrated infrastructure. 
Investigation of attacks . With PT NAD, investigation experts can localize an attack, trace kill chain, detect vulnerabilities in infrastructure, and implement countermeasures to prevent future incidents.
Threat hunting. PT NAD is great for threat hunting. Companies can test hypotheses about their state of security and detect the hidden threats that slip by ordinary cybersecurity solutions.
PT NAD DETECTS:
Threats in encrypted traffic 
Use of hacker tools 
Lateral movement 
Network anomalies 
Exploitation of network vulnerabilities 
Malware activity 
Signs of previously unnoticed attacks 
Attempts to hide activity from security tools 
Connections to automatically generated domains 
Non-compliance with security policies
How it works?
PT NAD captures and analyzes traffic on the perimeter and in the infrastructure. This allows detecting hacker activity at the earliest stages of network penetration, as well as when intruders attempt to get a foothold in the network and pursue their attack.
---
About Positive Technologies
Positive Technologies is a leading global provider of information security solutions. Over 2,300 organizations worldwide use technologies and services developed by our company. Positive Technologies is the first and only company in Russia to go public on the Moscow Exchange (MOEX: POSI).
For 20 years, our mission has been to counter hacker actions before unacceptable damage is done to a business or entire industries.
Our new class of solutions—metaproducts—focuses on the results-oriented approach to cybersecurity. Metaproducts detect and stop attacks in automatic mode with the help of just one person. Positive Technologies' first metaproduct, MaxPatrol O2, automatically detects and prevents attacks before unacceptable damage is done to the company. MaxPatrol O2 can replace the entire team of a security monitoring center, and it only takes one person to manage it; all in all, this protection system requires minimum knowledge and effort from a specialist.
To demonstrate that the results-oriented approach to information security truly works, we conduct cyberexercises (on our own infrastructure as well as others') and publicly test our products. Our solutions are based on the research experience and expertise of several hundred information security experts.